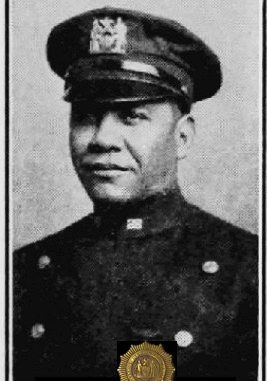 In the history of policing in the City of New York there have been countless men and women whose acts of bravery and valor have gone unrecognized by the department. There are thousands who have been recognized by the Police Department of the City of New York (PDNY), but whose stories have faded. This is the story of one officer who made history by way of his heroism, courage and valor, but nonetheless whose story has been forgotten. With the recognition that he deserves, perhaps his story will be shared by the department and its fraternal organizations.
Patrolman John E. Roberts, a resident of 24 West 131st Street, Manhattan was appointed to the PDNY on December 21, 1925. Little information was found in the public records relating to his life and career, however what was found makes it clear that he was a remarkable man who, by his acts of heroism, made history during his career.
In 1934, Ptl. Roberts, a "negro," was assigned to Harlem's 28th Precinct, located at 229 West 123rd Street, Manhattan. In May 1934, Ptl. Roberts, citing his record and qualifications, petitioned then Police Commissioner (PC) Major General John F. Ryan, for appointment as a Detective (Det.). The appointment was recommended by the Chief of Detectives, Assistant Chief Inspector John J. Sullivan, and Det. Roberts was assigned to the 28th Precinct's Detective Squad. While a Patrolman, and in the short time he was a Detective, Roberts had a reputation in Harlem and the PDNY for his investigations of policy (illegal gambling) and other rackets.
Det. Roberts' would soon be tested when, on June 3, 1934, at 2:50 am, on the sidewalk in front of Emilio Algerio's restaurant, located at 51 Lenox Ave., Harlem, he came upon a hoodlum named Aribal Barrios. The restaurant was described as being "down in the Puerto Rican colony in lower Harlem." Barrios, who was known as the "Bad Man of Harlem" was feared by shopkeepers and adult residents. It was reported that "little boys stood in awe of him." Despite his menacing reputation, Barrios, age 36, of 153 Vermilyea Avenue, Manhattan (Inwood section of northern Manhattan) had only one prior arrest, in 1931, for stabbing a victim.
While the bartenders and patrons watched in fear, Barrios entered the restaurant and opened the beer taps behind the bar. As he left the restaurant, he confronted the patrons who followed him outside. Barrios shouted "Why do you follow me!?" and drew a "spring knife" on the crowd, which backed off "feeling that this was one occasion when distance really lent enchantment."
It was at this point that Det. Roberts confronted Barrios who spun around and jabbed at the Detective three times with the knife, tearing into the Detective's coat. Det. Roberts drew his revolver and ordered Barrios to "Drop that knife!" Barrios ignored the command and lunged at Det. Roberts with the knife. Det. Roberts fired at Barrios, striking him in the right side. Barrios died one hour later at Harlem Hospital.
On May 9, 1935, on the occasion of the annual presentation of commendations to the members of the PDNY, Det. Roberts received the award of Honorable Mention for his heroic actions. The ceremony would not end without yet another honor being bestowed upon Det. Roberts for another act of bravery, courage, and valor.
Even during this extremely violent period in the history of the city and the PDNY, when hoodlums and gangsters used firearms to commit heinous crimes, the vast majority of officers completed their careers without ever having fired their weapons at another human. As fate would have it, Det. Roberts would face yet another test of his bravery.
On November 6, 1934, at 5:10 pm, Det. Roberts, accompanied by Ptl. Henry Volk, responded to a radio call for a disturbance in a fifth floor apartment located at 525 East 117th Street. Det. Roberts and Ptl. Volk entered the building and encountered three men who were threatening an extortion victim with bodily harm. Det. Roberts was one of many detectives assigned to patrol duty as a result of it being Election Day.
Upon arrival, Ptl. Volk remained in the lobby while Det. Roberts, with his Detective shield pinned to his coat, ascended to the fifth floor and approached the apartment door, carrying his revolver and nightstick.
A close quarters gunfight ensued between Det. Roberts and Frank Carabella, age 36. Despite his being struck with three rounds from Cabella's .45 caliber revolver in the abdomen, groin and breast Det. Roberts shot and killed Carabella with a bullet through his heart. Ptl. Volk responded up the stairs and took custody of Carabella's accomplices.
Det. Roberts was transported to a hospital where he remained in critical condition for through at least the May 1935.
In January 1935, Det. Roberts, Shield 930, was advanced in grade from Detective Second Grade to Detective First Grade, an honor in and of itself.
Det. Roberts made department history when, on June 10, 1935, on the occasion of the annual medal ceremony, he became the first negro member of the PDNY to receive the department's highest recognition, the Medal of Honor. Due to his injuries, Det. Roberts required assistance to the platform where he was presented with his medal by Mayor Fiorello H. LaGuardia.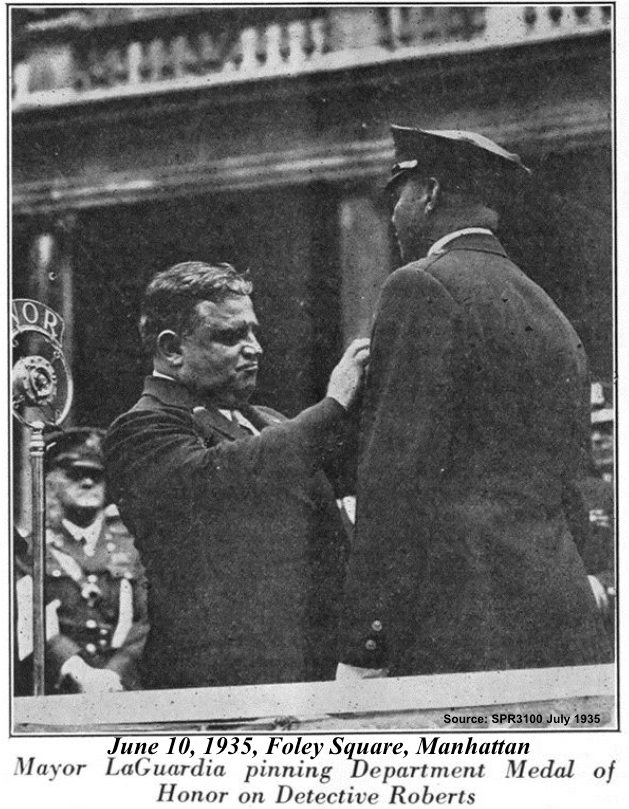 Above: The Department Medal of Honor, the style of which was adopted in 1912 and the green ribbon with field of 12 stars in 1934.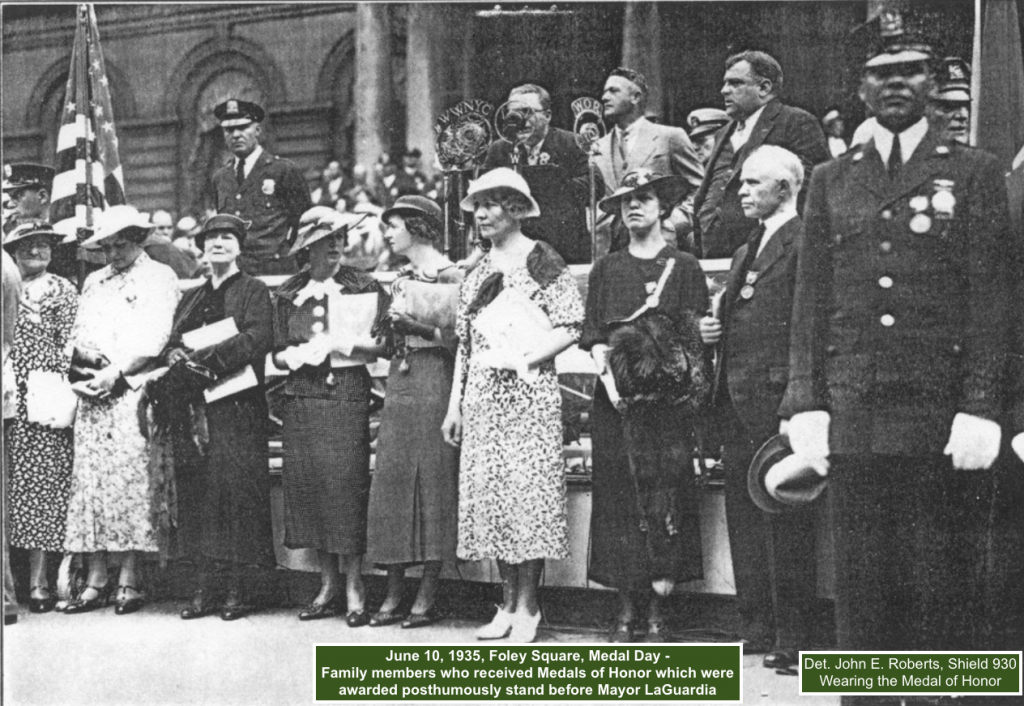 In yet another historic first, Det. Roberts was the first negro officer of the PDNY to participate in a Presidential Inauguration when, on January 20, 1941, he was assigned to do do on the occasion of President Franklin Delano Roosevelt's first inauguration.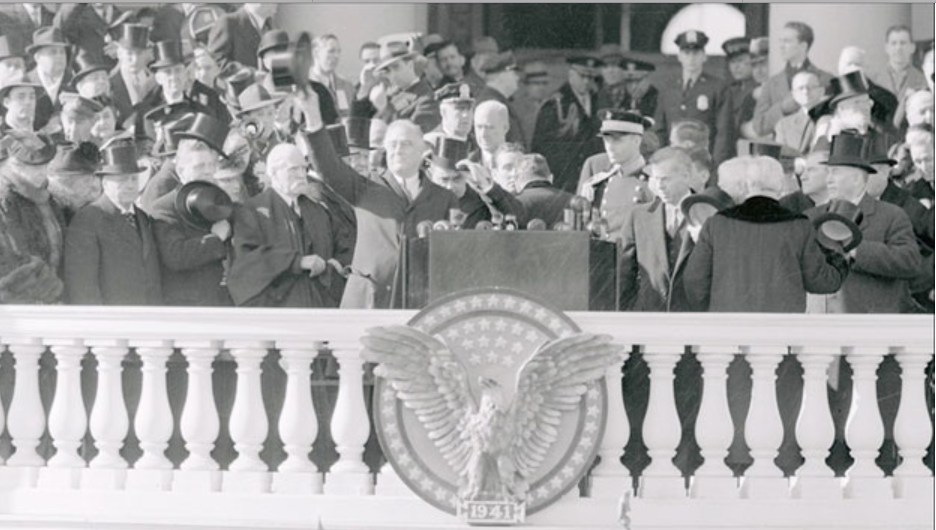 Now re-told, the story of Det. Roberts's career should be noted by the department and fraternal organizations and should serve as an inspiration for all.
For the definitive history of the department's highest order of recognition, the Medal of Honor, read our article at History of the Medal of Honor
Interested in reading about the PDNY's first negro Detective, read our article at Wesley C. Redding – First Negro Detective