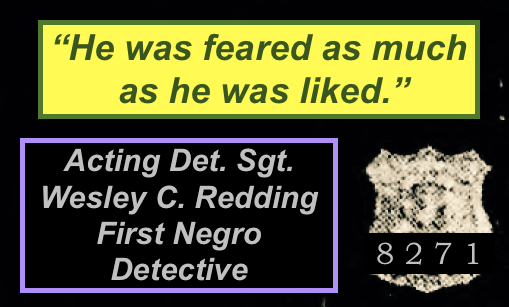 Wesley C. Redding, Born: August 26, 1892, Atlanta, GA
Education: Attended Morehouse College, and college in NYC
World War I – Served the PDNY as a Special Patrolman, Pennsylvania Station, Manhattan
Appointed to PDNY as Patrolman: 1920 – Shield #8271, Assigned to 38th Precinct, West 135th Street Station-house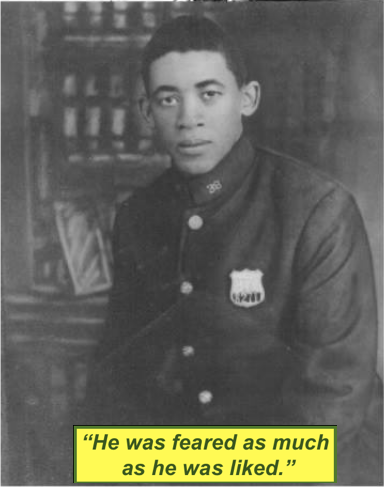 Residence: 214 West 143rd St., Manhattan
August 13, 1920 – Disciplinary Charges: 1) Absent from post in former liquor saloon on adjoining post; 2) no permission; 3) no entry in Memo Book – Result: Fined three days
August 26, 1921 – Promoted by Police Commissioner Richard E. Enright to the detailed (non-civil service/protected) rank of Acting Detective Sergeant. PC Enright remarked: "Officer Redding, you are the type of policeman that makes the New York cop known the world over as the finest, and it is fitting that you should be the first colored detective sergeant that ever graced the Police Department of New York City."
August 26, 1921 – Washington Heights Court Magistrate Bernard Douras, upon seeing Actg. Det. Sgt. Redding in court, wearing his new gold shield, remarked "I wish to compliment you, Detective Redding open your promotion. The City of New York never fails to acknowledge the able work of its employees, especially the type of work you represent." The remark was made in light of Redding's active career and in the aftermath of his recent arrest of nine felons.
March 8, 1924 – After an eighteen month illness, Actg. Det. Sgt. Redding died in a Staten Island Sanitarium from Tuberculosis.
Headline "Thousands Pay Last Tribute to Policeman 'Wes' Redding."
The article continued "New York, March 6 – Never before in the history of the city has the white and colored population, with one accord, paid such a profound tribute to its hero-dead as on last Wednesday when thousands mourned the loss of Wesley Redding, the young colored detective sergeant." Acting Detective Sergeant Redding succumbed to a long illness of Tuberculosis on February 25. "His daily routine of duty carried him into direct contact with dangerous people, especially the lower element, hold-up men, crooks and criminals in general. He was feared as much as he was liked. Some of the outstanding accomplishments in his short but meteoric rise was solving the Capitol theater robbery, getting a burglar by climbing over a transom, bringing Luther Boddy to justice, and the capture of numerous criminals whose presence jeopardized the safety of Harlem residents."
The pall bearers were described as "white Detectives" and the first brigade that marched in the procession was composed of "colored reserves under Captain Richard White."
Acting Detective Sergeant Redding was survived by his wife, father, and two sisters. Redding was buried at Woodlawn Cemetery, Bronx.