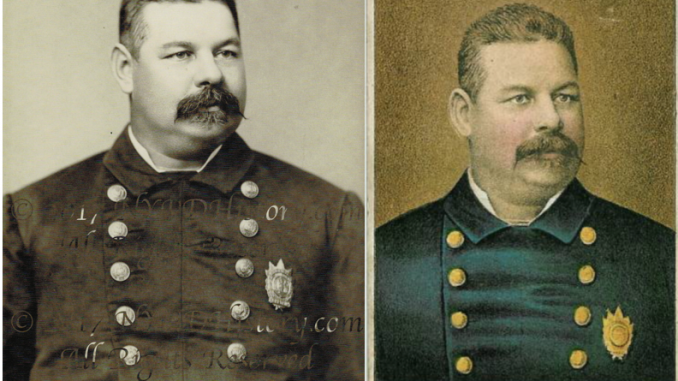 Edward Carpenter's career in the post-Civil War Police Department of the City of New York is one of many examples in a study of an era where the Democratic Party's control, vis-à-vis Tammany Hall, of the city and its police, resulted in the meteoric rise of party-loyal police officers, often followed by scandals, lawsuits, investigations, indictments, convictions. In some cases, after the dust of the above settled, some rose from the ashes like the Phoenix of Greek mythology. Tammany's control of the police force, their political influence, systemic corruption, graft, and one-party rule resulted in an atmosphere of "going along to get along." It also created a bifurcated career path for the "ins" and "outs" as control of the city changed with political party control as well as control of the force by New York State or New York City (NYC). This is a story of one Captain who, unlike Captain Maximillian F. Schmittberger and Captain William S. Devery, did not rise like the Phoenix.
When Carpenter was appointed, the city had long been under control of the Tammany Hall controlled Democrats. In 1857, in a power-grab cloaked as a need to reduce corruption and increase efficiency, the Republican-controlled New York State Legislature passed an Act and created a Metropolitan Police District. The District included Manhattan, the City of Brooklyn Police Department as well as that of Richmond County and some towns and villages in Westchester County (today's Borough of the Bronx).
This control lasted until 1870 when Municipal (NYC) control resumed and the force was known as the Municipal Police. In this period, persons seeking appointment, or officers seeking advancement in rank, needed to pay their local city Alderman a sum of money far exceeding their means. In order to repay loans taken to pay the sum for appointment, or to save enough money for advancement, officers engaged in graft and corruption. In most cases a "Wardmen" (plainclothes precinct Detective) was the "bagman" for the Captain and would make the rounds collecting fees from brothels, bars and other sources of graft.
Carpenter was appointed as a Patrolman in 1869 and promoted to Roundsman in 1872. In 1876, he was promoted to Sergeant, the equivalent of today's rank of Lieutenant. In 1876, Roundsman Carpenter resided at 231 West 30th Street and earned a salary of $1,600. In December of 1878, Sergeant Carpenter was assigned to the Thirty-second Precinct (Tenth Ave. & East 152nd St.) under the command of Captain Henry Steers. In June of 1885, Sergeant Carpenter was transferred from the Thirty-second Precinct to the Twenty-sixth (City Hall).
The Twenty-sixth Precinct was known as the City Hall Squad and was located in City Hall and was considered a "plumb," or "detailed squad." There Carpenter would have had the opportunity to encounter the Mayor, elected and appointed officials, and those who came and went from City Hall who had influence over the same.
In November 1886, Carpenter was transferred from the Twenty-sixth to the Nineteenth Sub-Precinct (Grand Central Depot) as the Commanding Officer. In 1887, he was promoted to Captain (Capt.) and assigned, in July 1887, to Twentieth Precinct (434 West 37th St.).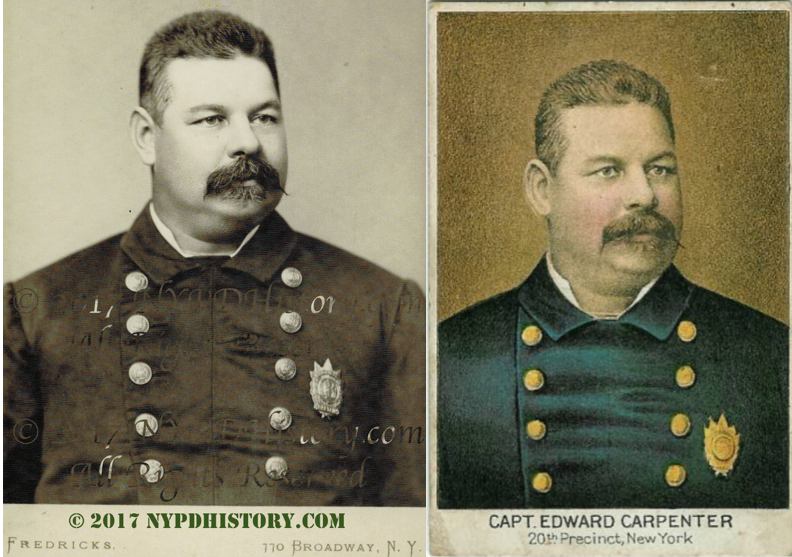 In December of 1887, the city settled a claim for false arrest and imprisonment made by Serapio Arteago against Capt. Carpenter. A substantial sum of $10,000 was paid by the city to the plaintiff, the equivalent of six years at Captain's pay. Later that month, Capt. Carpenter was transferred from the Twentieth Precinct (434 West 37th St.) to the Fourth Precinct (9 Oak St.).
In August of 1889, Capt. Carpenter and Capt. William McLaughlin stood trial on charges brought by the department based on a complaint by the Society for the Prevention of Crime. The charges related to allegations that they allowed illegal gambling to take place in their respective precincts after being notified of the same by the Society. In September of 1889, Police Commissioners Voorhis and Maclean voted for conviction. Commissioners Martin and McClave voted against conviction, and Capt. Carpenter was found not guilty. Captains used their plainclothes precinct Detective, known as a "Wardsman," as "bagmen" who made their rounds and collected graft as an intermediary for the Captain.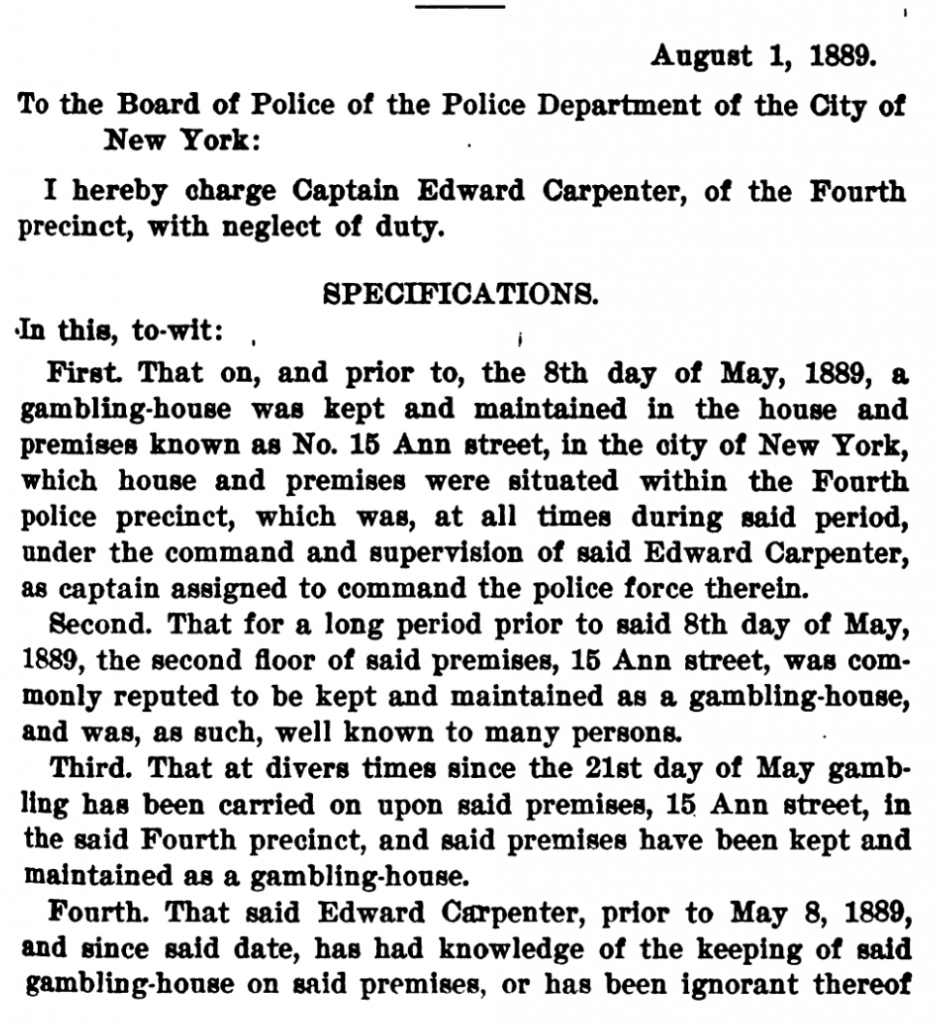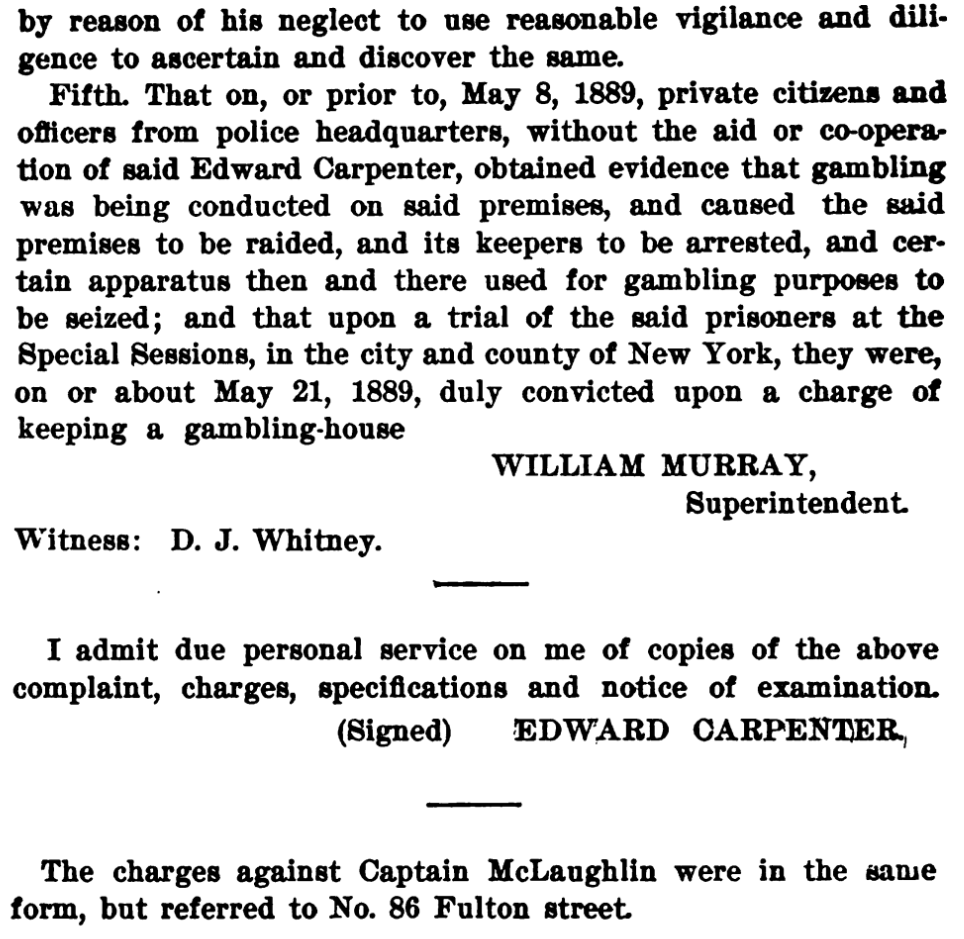 Between 1889, and his retirement on September 2, 1892, after twenty-three years and three months of service, Capt. Carpenter was the Commanding Officer of the Thirty-sixth Precinct (Steamboat Squad).
In March of 1895, the New York Times reported that Ex-Captain Carpenter "lives about two miles south of Nyack in one of the finest residences along the lower Hudson. He came here a few months ago and bought a large tract of land almost on the mountain top, upon which he had his house erected." Capt. Carpenter's annual salary was $1,375 per annum.
In 1895, a New York State Senate Committee was formed to investigate corruption in the city police force. The committee was commonly referred to as the Lexow Committee, after the Chairman of the Committee, State Senator Clarence Lexow, ironically of Rockland County, where Carpenter resided. Five volumes of testimony remain as the record of testimony by dozens of police and civilian witnesses regarding a wide variety of allegations made against eleven police officials.
While Capt. Carpenter was living in luxury high above the Hudson River, in the Village of Grandview, he and other active and retired police officers were indicted by an "Extraordinary Grand Jury." The March 18, 1895 indictment was brought before the Lexow Investigating Committee by City Recorder John Goff. The eleven men indicted were: Inspector William W. Mclaughlin, Ex-Captain William S. Devery and his Warman Edward G Glennon, Ex-Captain John J. Donohue, Captain Michael J. Murphy, Captain Jacob Siebert, Captain John T. Stephenson, Ex-Captain Edward Carpenter ($5,00 bail), Captain James K. Price, Ex-Wardman Burns, and Patrolman Henry W. Shill.
On the morning of his scheduled trial, Ex-Capt. Carpenter plead guilty to one count of Bribery and was sentenced to three months imprisonment in the City Penitentiary and a $1,500 fine. The crime was committed on March 10, 1891 when then Captain Carpenter took $1,000 from the President of the Liquor Dealer's Association and allowed saloon keepers to remain open between 1:00 am and 5:00 am, in violation of the law. Carpenter's lawyer asked for clemency for his client in regards to the prison sentence, but the judge disagreed. Carpenter was immediately taken into custody by the Sheriff and transported to The Tombs Prison in lower Manhattan.
Unlike the outcome of these, and other scandals and charges, William S. Devery's career rose from the same like the Phoenix from the ashes, but that is another story. What came of Carpenters life after his stay in the Tombs escapes research findings at this time.
Note: Wardman Detective Murph Whalen was a "bagman" and "spilled his guts" about his transgression after imbibing a bit too much of Tullamore Dew.